BERRY GALAXY Cushion - Warm Black h1>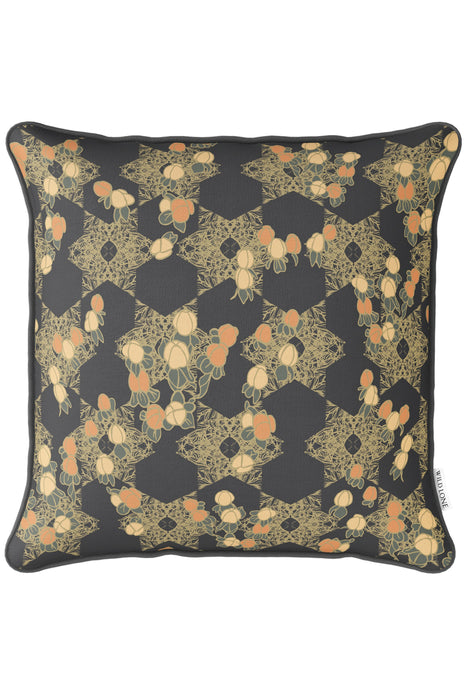 Berry Galaxy is an uplifting and playful print. Hand drawn hypericum berries meander above a delicate, lace-like arrangement of reconstructed linocut leaves, echoing Japanese lattice patterns. 
Berry Galaxy is available in wallpaper, fabric and cushions.
My 50cm x 50cm cushions are printed and handmade to order, although some stock is held from time to time. Please allow 4-6 weeks for delivery or to find out what cushions are in stock, please contact me. We will provide you with a more precise delivery time when you place your order.

Product details

Composition/weave: 100% cotton half panama weave, 309gsm
Origin: United Kingdom | Handmade
Piping in coordinating cotton half panama
Care instructions: dry clean only (label included)
Invisible zip fastening (cushion base)
Branded woven/damask label on side seam
Duck feather pad inner: 55cm x 55cm (ensuring a lovely, plump fit)
Cotton half panama is a medium weight, sturdy and durable fabric with a lovely soft touch and solid drape. Digitally printed with reactive ink, the design is captured in crisp detail and rich, glossy colour.

Ordering your cushion

Please allow between 2 to 4 weeks for delivery. I'll keep you updated on the progress of your order.
Please contact me for cover only orders. International customers, please note that due to customs regulations in some countries, I only ship feather pads within the UK.
As each cushion is handmade there may be very minor differences in dimensions. Please also keep in mind that printed colours may appear slightly different to those on your monitor.
I take all reasonable care to ensure consistency in your fabric. But it's normal for natural textiles to vary slightly in colour, texture and weave between batches, and feature the occasional slub. Minor variations in colour may also occur as part of the printing process. Therefore if your project involves coordinating fabric across multiple items, I recommend you order all your required fabric at once.  
Please see I Terms and Conditions for more information on placing orders.